Apparently Azaleas are a sub-genus of rhododendron, being different by having smaller leaves. I had heard of both but knew little about their appearance. Coming in a large variety of colours I can see this flower being popular amongst those looking to create expressive floral collages.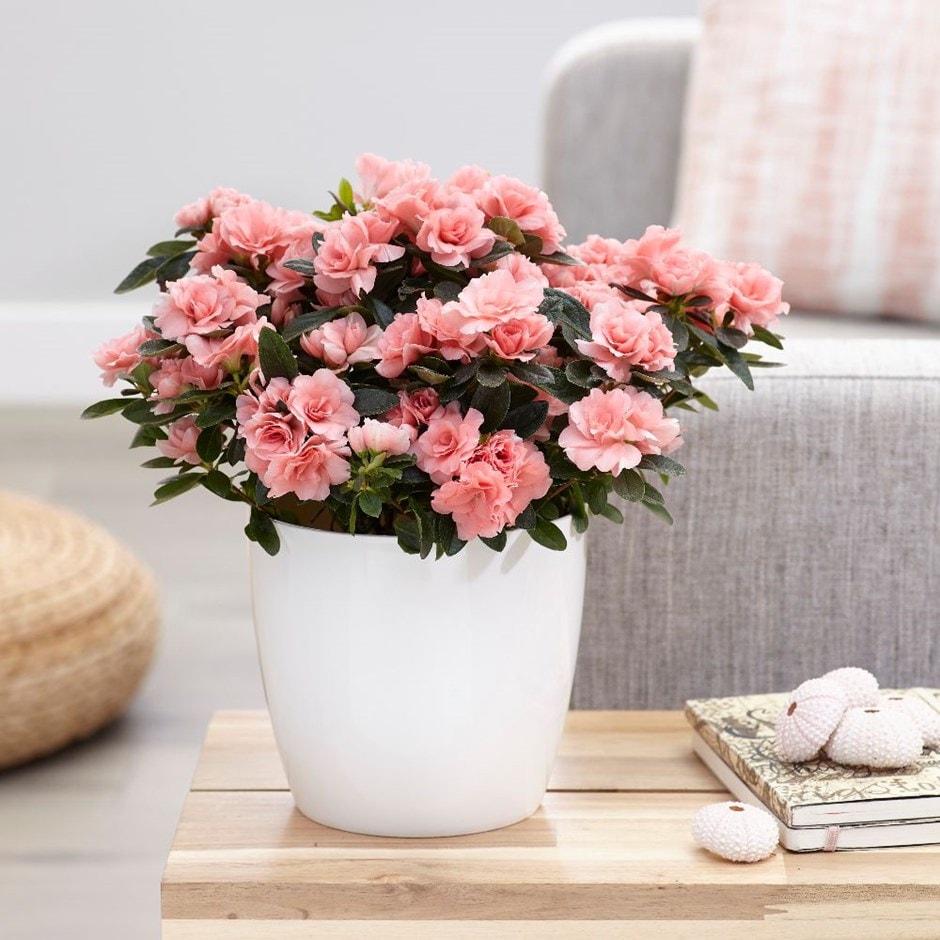 Initial Impressions
An interesting orange that is a bit 'washy' when lightly spread but then vibrant when saturated. A warm colour which looks like it could work well across a large range of fountain pens.
Swabbing Impressions
The first pass of the swab is surprisingly light, hinting this could be a pastel ink (which it is not). The second swab produces a big jump in saturation resulting in a far stronger colour, though I note on the lower half of that part of the card we now see some hints of peach. With the third pass we get the strong orange colour the writing had indicated. Finally the fourth pass does add a little depth.
Writing Impressions
On the Midori MD paper the Franklin Christoph needlepoint nib wrote surprisingly smoothly producing a strong line with little shading. The OMAS produced a lot of interesting shading and while there was the usual feathering on this paper type, it was not as bad as I expected. The only catch was when left nib down a lot of ink dripped in to the cap resulting in the need to refill the converter when I moved it to the Franklin Christoph with the SIG nib. This pen unsurprisingly wrote from the start and it was satisfying to find strong colours from this dry nib. Even the usually reluctant Pelikan Pelikano worked well with this ink on this paper.
With the Oxford Optik paper the amount of shading with the OMAS and needlepoint nibs dropped as the levels of saturation increased. I did note a near lack of feathering with the former nib. The SIG wrote well, though on the glossier white paper the results seemed lighter than on Midori MD. The upper part of many of the letters were paler with this nib, almost giving a graduated effect to the writing. The Pelikano wrote well, however the writing it produced was a little light for my tastes and I felt it lost the warmth of the colour.
With the Tomoe River paper all four pens worked well, with the Pelikan Pelikano producing its best results. The OMAS, as expected, produced the most saturated writing with little shading, however at the same time it produced very little feathering. The ink splash at the bottom offered little more than with the swatch card.
Shading and Sheen
Azalea produces a lot of shading, however there was only about three different levels of saturation. Still this does result in attractive looking writing.
This is not a sheening ink.
Flow and Consistency
Azalea flows very well. It comes across as a wetter ink and while one time I saw it stuck in the converter I think that was actually a result of an air bubble.
Drying Times
I actually thought Azalea was a wetter ink than the results demonstrated. There is a slight amount of smudging on the 10 second test, however I expect the smear test on the right, where I build the ink up, to smudge more.
Packaging
While I only have a sample vial of this ink you can see from the above picture that it normally comes in a square bottle that contains 30ml of ink. Having handled one before, they work very well from a presentation point of view, but are not great for filling a fountain pen.
Swab Comparisons
I thought there would be more cards containing similar swatches but I found many of those I expected to compare Azalea with were more red or more golden.
Both the comparison inks here have darker writing though it is less obvious under natural light (compared to the harsh white of the scanner). Neither offer that much in the way of shading, however when you compare them to the saturated part of the Azalea swatch then you do see some similarities.
These two inks are a lot closer and produce near identical writing. The Pilot Iroshizuku Ju-Jaku shows similar levels of shading but the first pass area is darker and there is more warmth to the final colour. The Lamy Bronze has similar hues of shading until the fourth pass, where it is darker.
Cost
At present these 30ml bottles cannot be bought individually, but only as part of the Cult Pens set of ten. This comes in at £60 or £6 per bottle, which for most inks is cheap, however compared to other Diamine inks this is a little more expensive. Having said that, I suspect that in 6-12 months time you will be able to buy 30ml plastic bottle 'refills' at the regular Diamine price of £4.50. I think they have done this on all their non-Inkvent released ink sets so far.
Views
When I went to write the individual reviews for this series of inks I just shuffled the swatch cards and took that order. Azalea found itself at the bottom of the stack however I now feel I had left the best to last. This is a really nice ink to use (note I like oranges and Pilot Iroshizuku Ju-Jaku is one of my favourite inks), producing decent levels of shading and appearing to work in virtually any pen and paper combination. I suspect if Cult Pens/Diamine start selling the Flower Inks Set bottles separately this will be one that does well.
Tools Used
The Well Appointed Desk Col-o-ring ink testing cards.
Midori MD A5 paper (cream page writing sample).
Oxford Optik A5 paper (white page writing sample).
Rhodia Dotpad No. 16 (drying tests).
GoodINKPressions A5 Tomoe River 68 gsm paper (white paper, this ink blot test at bottom).
Pens Used
J. Herbin glass dip pen with the tip slightly smoothed (used the writing on the ink test cards).
Franklin-Christoph 451 CDLI with a Mike Masuyama Needlepoint steel nib.
OMAS 360 GM with a broad 18k gold nib.
Franklin-Christoph 19 '1911' with a broad SIG steel nib.
Pelikan Pelikano with a starter/A steel nib (also used for the drying test and writing in the pocket book).
Letter opener for the ink smear on the Tomoe River paper.