I will admit I am confused by the naming of this one. I have been open about lacking knowledge when it comes to plants and flowers, so I assumed dahlia would be green in colour, or at least some of the variants. I looked at 12 pages, some 220+ different plant options on the Royal Horticultural Society shop website, and yet the closest I could find was the Tsuki-yori-no-shisha below and that is probably a cream flower with the green being a reflection of the stem. Fortunately a further search showed me there were green ones out there, though not available for purchase in the UK. I did ask a friend who is a keen gardener and he mentioned dahlias do come in every colour bar blue, however the green ones tend to have very little contrast with the foliage around them.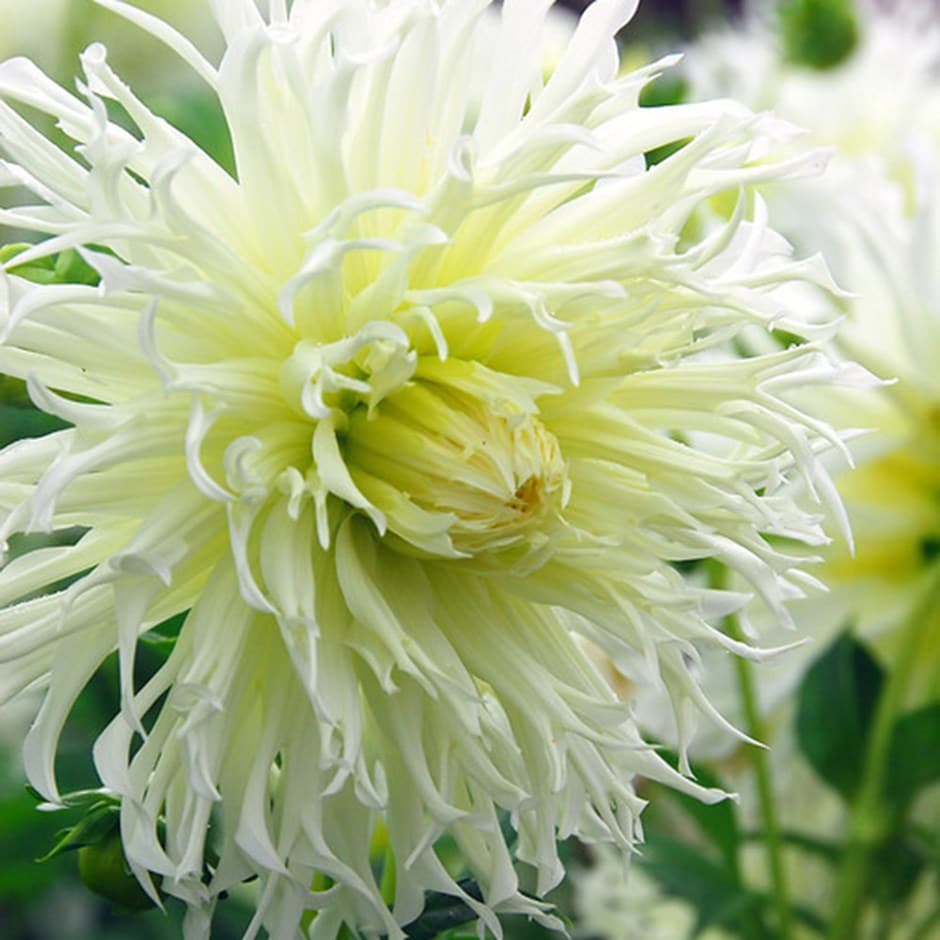 Initial Impressions
A bright vibrant green ink, though some what pastel when lightly applied. The swabbing did hint at how dry this ink could be. Certainly a summery ink.
Swabbing Impressions
The first swipe is light and pastel like. It actually went down smoothly, hiding the fact this is a dry ink. The second pass added a lot of depth and we see a bold colour. The third swabbing resulted in little difference, however on the fourth we see a jump in saturation and depth/darkness.
Writing Impressions
As I started to write on the Midori MD paper with the Franklin Christoph needlepoint I saw an interesting line going down especially on the down strokes. I had been expecting a light shade similar to the first pass on the swatch card as this is a dry nib. Alas my expectations took a hit when I moved on to the wet OMAS broad nib. Sure there was lots of shading, but at the same time the lighter parts were paler than with the first nib. In fact I did notice some ink starvation and skipping issues, which did surprise me. If I thought the second set of writing was bad, then the results of the Franklin Christoph broad SIG nib showed it could get worse. Sure this is a dry nib, but the writing is really faint and there was both serious flow issues and skipping. I was nervous about how bad the Pelikan Pelikano would be and my expectations were met.
Now while the Midori MD writing samples were the first usage of dahlia with each pen, in case it was a priming problem I did the last sentences with the SIG and the Pelikan after having completed the tests on the Oxford Optik notebook. I think it is safe to say this ink does not work well with this type of paper.
On the Oxford Optik paper things were generally a lot better. None of the pens suffered from ink starvation, though here only the needlepoint really produced writing dark enough to be useful. At first the OMAS looks to have produced decent lines but I found it was the shading causing this and the lighter parts resulted in the letters being a little blurry to my eyes. Note I do use reading glasses, though mild strength ones.
The Tomoe River paper produced the best results, though once more I would suggest only the Franklin Christoph needlepoint provided writing that was consistently dark enough to be used. At least here all the writing was legible, something you could not say about the Midori MD and Oxford Optik tests.
Shading and Sheen
This ink shows very strong levels of shading, though with a lot of the writing it results in a combination of part faint, part strong letters, which is something I find can be hard on the eyes. I think an artist would be able to extract a broad range from this ink.
This is not a sheening ink.
Flow and Consistency
When I part filled the converter I did notice that the ink stuck behind air bubbles and needed multiple taps to drop down to the end. Having said that, none of the pens required priming to start writing. I personally think this ink has quite a high level of viscosity and that causes the problems I experienced with flow. Certainly out of four nibs and four different types of paper I only really produced two sets of writing I could be happy with.
Drying Times
The ink dries very quickly, even the 1 second test barely smudged and the final test, where I laid down a patch of ink, barely produced any smearing.
Packaging
While I only have a sample vial of this ink you can see from the above picture that it normally comes in a square bottle that contains 30ml of ink. Having handled one before, they work very well from a presentation point of view, but are not great for filling a fountain pen.
Swab Comparisons
I only had a couple of swatches similar, though that is one more when one of these, ScriBo Verde Prato, was reviewed.
At first I thought this ink would be quite similar to the Robert Oster Citrus, and in natural light Dahlia is a closer green to the other two than the scan would infer. I am certain that there will be other similar inks out there, especially from Diamine and in the Sailor Studio selection, plus Pilot Iroshizuku Chiku-Rin, however the latter two will cost considerably more than this ink if Dahlia becomes available outside of the set.
Cost
At present these 30ml bottles cannot be bought individually, but only as part of the Cult Pens set of ten. This comes in at £60 or £6 per bottle, which for most inks is cheap, however compared to other Diamine inks this is a little more expensive. Having said that, I suspect that in 6-12 months time you will be able to buy 30ml plastic bottle 'refills' at the regular Diamine price of £4.50. I think they have done this on all their non-Inkvent released ink sets so far.
Views
I am going to be blunt. This is an ink for artists. I do like the colour and the shading it produces but anyone wanting to use it to write with will struggle to find the right combination of pen and paper. My testing included two of the most common fountain pen friendly paper types in the UK, Rhodia and Optik (both Black'n'Red and Oxford are the same company and use the same paper in the UK), and Tomoe River is really popular as well, yet none produced decent output, and arguably it was the needlepoint nib, which is actually a dry writer, that produced the only easily readable results.
It might be the case a drop of a lubricant, such as white lightning, might completely transform this ink for the fountain pen user, but I would not recommend buying some just for Dahlia, instead if you really like this colour and want to write with it I would look at other comparisons for a better alternative.
Tools Used
The Well Appointed Desk Col-o-ring ink testing cards.
Midori MD A5 paper (cream page writing sample).
Oxford Optik A5 paper (white page writing sample).
Rhodia Dotpad No. 16 (drying tests).
GoodINKPressions A5 Tomoe River 68 gsm paper (white paper, this ink blot test at bottom).
Pens Used
J. Herbin glass dip pen with the tip slightly smoothed (used the writing on the ink test cards).
Franklin-Christoph 451 CDLI with a Mike Masuyama Needlepoint steel nib.
OMAS 360 GM with a broad 18k gold nib.
Franklin-Christoph 19 '1911' with a broad SIG steel nib.
Pelikan Pelikano with a starter/A steel nib (also used for the drying test and writing in the pocket book).
Letter opener for the ink smear on the Tomoe River paper.