As mentioned in my group review of this ink set, Cult Pens have gone out to create through Diamine a unique set of inks for this set. Now with buttercup we finally have a flower I know and can almost recognise. To me buttercups mean summers when I was young and farmers were more open to letting families use their fields for picnics.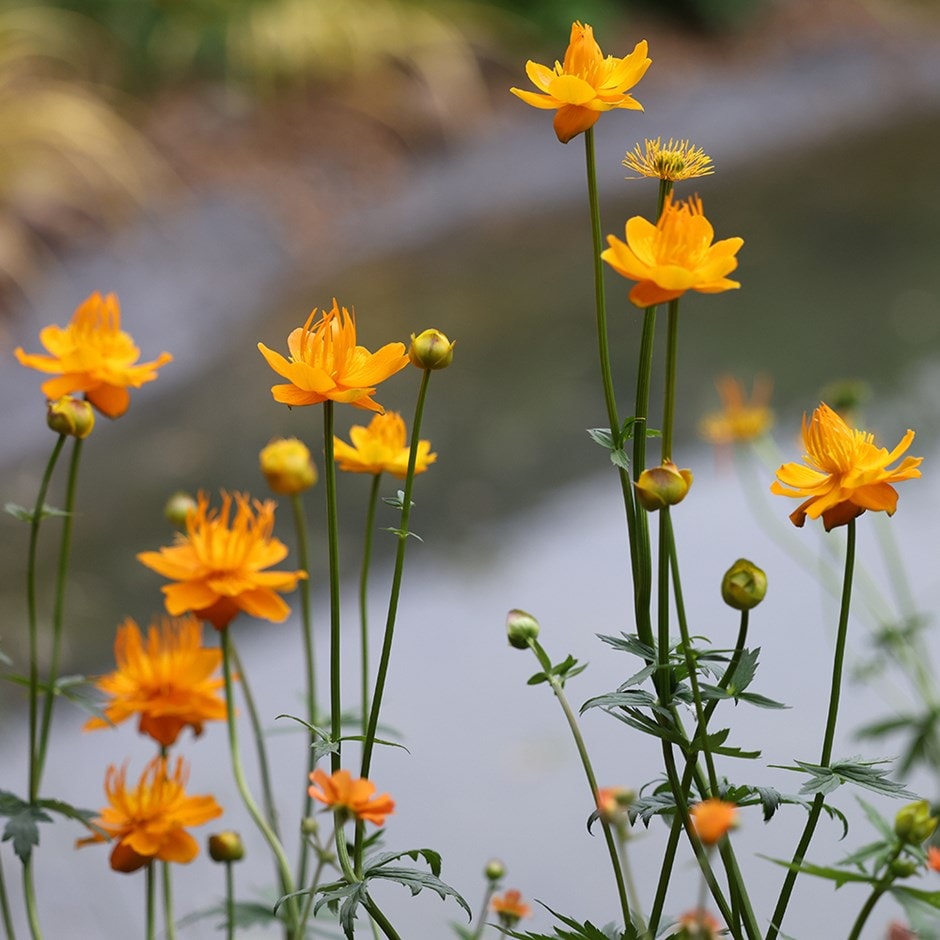 Initial Impressions
A bright yellow ink, though one that also shows hints of orange when saturated. Initial swabbing shows signs this might be a wetter ink and may also be usable with a fountain pen for writing, which can be problematic for yellow inks.
Swabbing Impressions
There is quite a jump in depth of colour between the first and second passes of the swab. We start with a bright yellow, then quickly get hints of orange or brown. The third pass increases this depth and strength, though not by much, and the fourth almost merges in with the former, though we do see some nice orange outlines.
Writing Impressions
On the Midori MD paper my initial thoughts were this ink would be too light and bright to be readable. Certainly with the needlepoint nib at first the lines were a bright yellow, however on drying the ink became darker and also provided a little shading. At this point I thought this was a dry ink until I next used the OMAS with its broad nib at which point it felt like buttercup was almost gushing out of the pen. Thick, bold, bright lines which are also clearly legible. I honestly did not know what to expect with the SIG. After all it is a broad, stub like nib, but tuned for a dryer ink flow. On this paper I got almost identical results to those from the OMAS. I think there's a little spreading of the ink, maybe feathering, and the broad nib certainly helps here as once we move on to the Pelikano we get lighter writing despite the Pelikan generally being a well behaved pen. Additionally with this 'a' nib I get the impression that the ink not flowing as well as with the other pens and also dried very quickly.
On the Oxford Optik paper the two broad nibs once more produced very similar results, though possibly with a little more shading. Again there was feathering, though not that much and mainly where ink pooled. The surprise was that the needlepoint nib produced more shading indicating it might have been producing colours closer to the 2nd and 3rd nibs, however looking closely it was not the case and when comparing with the previous sampling on the Midori paper the writing results with this nib were very similar, just the bright white of the Oxford Optik paper seemed to make the letters stand out more. What was disappointing was the buttercup ink with the Pelikan on this paper. The pen appeared to struggle with it, but then it's long been known some nibs will just work with some inks and not with others with there being no obvious reason why.
With the Tomoe River paper it was interesting to see all four pens produced writing samples that were dark enough to read. The Pelikano results are still lighter than for the other three, but this time not by so much.
Shading and Sheen
This ink shows very strong levels of shading and areas where it is found do stand out. You almost see light brown or dark sand patches where lines cross over or the nib rests. If you look more closely you can see it is orange outlines around those areas that seem to cause this. Buttercup is certainly an ink with a lot of character.
This is not a sheening ink.
Flow and Consistency
It was not until I did the drying times test that I finally came up with a consistent view of this ink. It does flow relatively well however also dries very quickly. Watching it move around in the converter is does show it has a somewhat oily nature with traces sticking to the sides and a small resistance to initial movement when tipping the converter one way or another.
Drying Times
The ink dries very quickly, even the 1 second test barely smudged and the final test, where I laid down a patch of ink, barely produced any smearing.
Packaging
While I only have a sample vial of this ink you can see from the above picture that it normally comes in a square bottle that contains 30ml of ink. Having handled one before, they work very well from a presentation point of view, but are not great for filling a fountain pen.
Swab Comparisons
I have not previously tested that many yellow inks as it is a colour that traditionally has not particularly interested me or those I attend pen clubs with, so there were not many swatch cards to look at and fewer that were close.
Here we see Buttercup compared with a couple of other Diamine inks. On the left is another Cult Pens collaboration, from the Fresh Fruit collection we have Bored Banana, which is paler on a first pass of the swab on the card, but when saturated is not that different, though with less variations in shading. The writing is pretty similar as well. The Diamine Yellow is similar when lightly laid down (aside from the red streak that must have been from another ink), however shows little saturation on the other passes.
The one other similar ink I have previously tested was Buttered Popcorn from Ferris Wheel Press, part of a three bottle sampler set I bought a few years back. It is slightly more orange in shading.
Cost
At present these 30ml bottles cannot be bought individually, but only as part of the Cult Pens set of ten. This comes in at £60 or £6 per bottle, which for most inks is cheap, however compared to other Diamine inks this is a little more expensive. Having said that, I suspect that in 6-12 months time you will be able to buy 30ml plastic bottle 'refills' at the regular Diamine price of £4.50. I think they have done this on all their non-Inkvent released ink sets so far.
Views
Want to write with a bright yellow ink to use with a wet nib then this could well be the ink for you, especially if you like some interesting shading. Down side is dryer nibs, or some paper types may leave this ink solely for the realm of the artist. As at present Buttercup can only be bought as part of the set, then over time you might find the right combination of pen and paper to work for you.
Tools Used
The Well Appointed Desk Col-o-ring ink testing cards.
Midori MD A5 paper (cream page writing sample).
Oxford Optik A5 paper (white page writing sample).
Rhodia Dotpad No. 16 (drying tests).
GoodINKPressions A5 Tomoe River 68 gsm paper (white paper, this ink blot test at bottom).
Pens Used
J. Herbin glass dip pen with the tip slightly smoothed (used the writing on the ink test cards).
Franklin-Christoph 451 CDLI with a Mike Masuyama Needlepoint steel nib.
OMAS 360 GM with a broad 18k gold nib.
Franklin-Christoph 19 '1911' with a broad SIG steel nib.
Pelikan Pelikano with a starter/A steel nib (also used for the drying test and writing in the pocket book).
Letter opener for the ink smear on the Tomoe River paper.