Back when I reviewed Blu Capri I mentioned how it nicely represented the turquoise waters off the shore of the aforementioned island, well here we now have an aquamarine to represent the early evening waters around the Adriatic coast. Once more we have an interesting and appropriately coloured ink from Scrittura Bolognese.
Initial Impressions
I do like this type of colour, be it described as teal, aquamarine, azure, etc. and purposely left this ink till last when reviewing the ScriBo range. The colour does not disappoint and the ink flows easily. Initial swabbing does hint that it might be dry, but I think a higher than normal viscosity is more likely, backed up by the ink sticking to the sides of the converter.
Swabbing Impressions
If you look at the writing you might be able to see some hints of red. I do wish I had left an ink blot on the card, as I had done with some of the others I used in the comparison tests below. The first swipe of the cotton bud initially made me wonder if this was a dryer ink, however rapidly I became aware it is a 'stickier' ink with a higher level of viscosity. Additionally it is not as saturated as many of the other ScriBo inks as you do see a difference in depth through each additional layer, where as on many of the others you hit the final colour on the third, and occasionally second, pass.
Writing Impressions
On the Midori MD paper we can see a good variation of shading across the different pens, and with the wet OMAS 18k nib there is the addition of dark red edges to the writing. None of the pens struggled on this paper though there is a noticeable contrast between the results of each nib.
As expected all four pens provided darker writing samples with the Oxford Optik paper. There is still a decent amount of shading, even with the wettest nib. I was not sure if there was a little sheen, hence the ink blot. There is not, well not in a metallic sense anyhow, however if you look closely you will see a dark red outline.
Shading and Sheen
For me this ink has an almost perfect balance of shading. It does not seem to matter how wet or fine the nib is, variation is present.
This is not a sheening ink.
Flow and Consistency
This ink is interesting in that it flows well enough to be described as a wet ink yet from below you can see it dries quickly. There are hints it is on the viscous side, but I suspect the dyes used just make Verde Mediterraneo slightly sticky. Inverting a converter and the ink drops straight away, there's is no oiliness, yet at the same time it smears the sides and also when I went to wash the nibs and converter I found the ink a PITA to clean out. Not so much of a stainer, but more clumps of dye trapped between the nib and feed and the edge of the nozzle.
Drying Times
While Verde Mediterraneo may flow well it also dries very quickly.
Packaging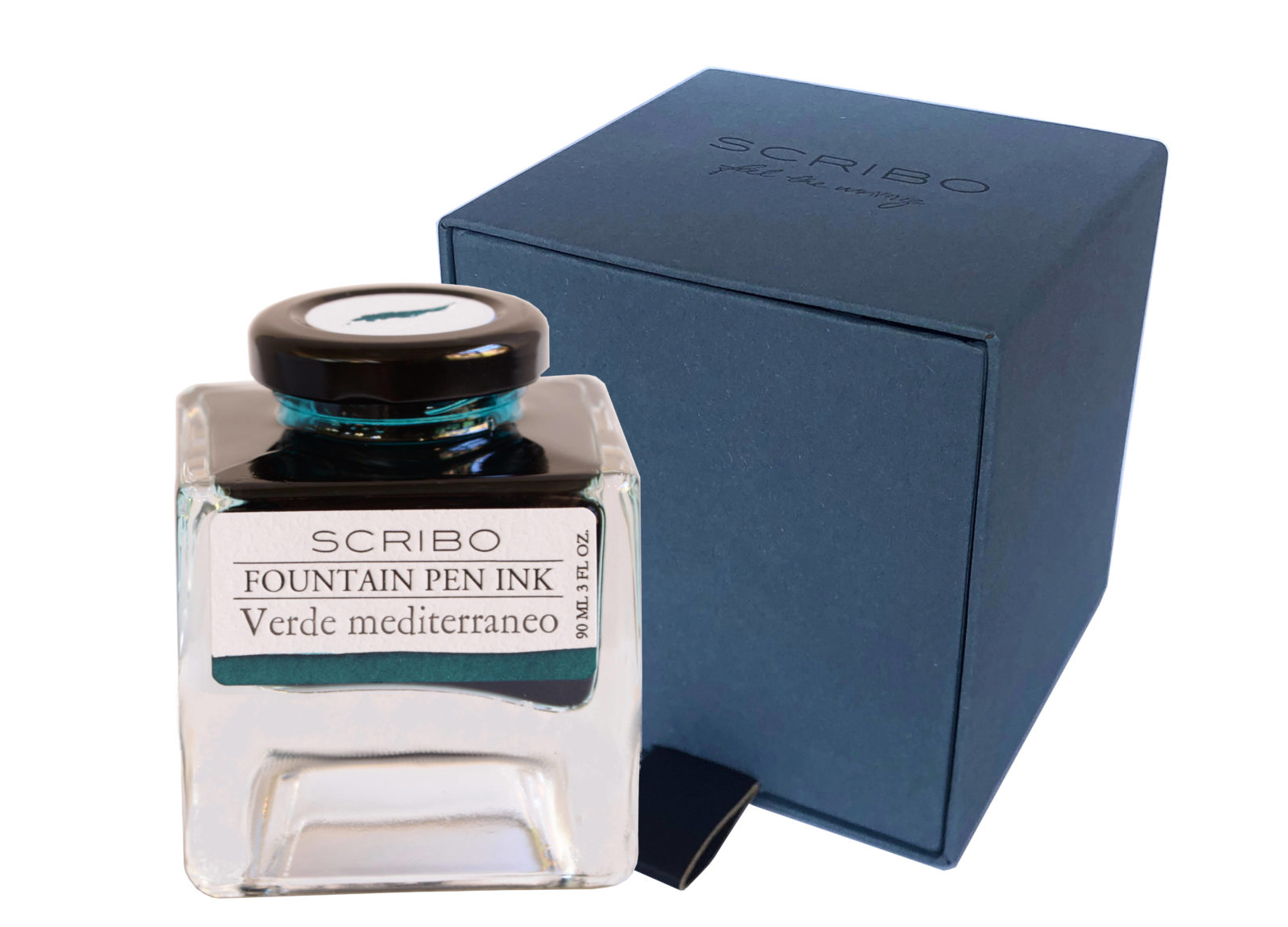 While I only have a sample vial of this ink you can see from the above picture that it normally comes in a four sided glass bottle which holds 90ml. Thought has obviously gone in to the design of these bottles with the view that the owners may keep them in boxes or draws for not only do the bottles neatly and safely stack upon one another but the cap comes with a label showing a good representation of the ink contained within. The front label also shows the colour, which could be useful once the bottle is near empty.
Swab Comparisons
You can tell I am a fan of this type of ink by the number of swatch tests I was able to compare it with. I have others which are just a bit more green or blue.
This was possibly the closest comparison, though the ScriBo ink shows far more variation in shading. Having said that there is very little difference between the two lots of writing.
Here we have two very close inks, but both slightly more on the 'grey' side.
Here are two inks which are not quite like the Verde Mediterraneo but could be considered competition. The Teal Breaker looks closer in natural light, however was a limited edition ink for the FPUK Facebook Teal Breaker Pen Set group buy and so may not be repeated.
The Lamy Turmaline is more blue and also a limited edition that is no longer available, but I thought it was interesting to see how similar the levels of shading are.
Cost
At £35 for 90ml this is reasonably priced for a luxury ink. Slightly more expensive then Pelikan Edelstein, regular Montblanc, and Graf von Faber Castell, but also slightly cheaper than Pilot Iroshizuku and Sailor Manyo. Sailor Shikiori and non-base Montblanc inks are considerably more expensive.
Thing is, as with most 50ml+ size bottles, you are not going to run out of ink any time soon, in fact you will probably not be looking to replace a bottle of this size for years unless you are a prodigious writer with just a couple of bottles.
Views
I really like this ink. Verde Mediterraneo falls in to one of my favourite colour bands and appears to work with virtually any pen on different paper types. Sure it is a bit of a pain to clean, but then it is the same for many of the other inks I either own or have tried that rival it. The last part of the previous sentence is the one issue. There are a lot of inks in or close to this colour group and while some shown above, such as Ku-Jaku, are more expensive and less expressive, others are a lot cheaper. I think one thing this ink really has in its favour is the level of shading it provides if that is something you are interested in. I have a few bottles to finish but in time I can see myself buying ScriBo Verde Mediterraneo.
Tools Used
The Well Appointed Desk Col-o-ring ink testing cards.
Midori MD A5 paper (cream page writing sample).
Oxford Optik A5 paper (white page writing sample).
Rhodia Dotpad No. 16 (drying tests).
Pens Used
J. Herbin glass dip pen with the tip slightly smoothed (used the writing on the ink test cards).
Franklin-Christoph 451 CDLI with a Mike Masuyama Needlepoint steel nib.
OMAS 360 GM with a broad 18k gold nib.
Franklin-Christoph 19 '1911' with a broad SIG steel nib.
Pelikan Pelikano with a starter/A steel nib (also used for the drying test and writing in the pocket book).