When you think of Italy you think of the food, the art and architecture, the lakes, the coast, and the islands. Situated just off Naples, Capri is in a sun kissed part of the world with beautiful turquoise blue waters, and here from Italy we have an ink that captures the heart for the tourist and local alike.
Initial Impressions
When I first started to use this ink I noticed what a clean and bright colour it produced. It was what a turquoise should be. The swabbing went well, though this was after the Arancio di Sicillia, so anything would look wet. Certainly it appears to be a well implemented colour and one I am familiar with, as in my earlier days of ink discovery I was really just looking for the perfect turquoise and teal.
Swabbing Impressions
I am still trying to make my mind up over whether this a wet ink or not. The first pass shows some hesitation for the ink to be put down, but at the same time there is a certain amount of stickiness to it. The second pass looks better and with a second dip, and more saturation of the cotton bud, the third and fourth passses do make it look like this ink look far from being dry.
Writing Impressions
It was on the Midori MD paper that I first realised this is a dryer ink. Actually slightly dry or hint of dryness may be a better way of putting it. Certainly there is a lack of lubrication which does cause more feedback from the nib than I would expect, but I suspect many will not notice that and some may even welcome the feel on nibs they normally find a bit too smooth for their personal preference.
Normally I would expect the Oxford Optik paper to be very forgiving, however here not so much. It did allow for more ink to be laid down but I still felt more resistance than normal from the paper. One thing that is more obvious in this writing sample than with the Midori MD paper is just how different the shading is with each nib. It certainly makes this an interesting ink to use.
Shading and Sheen
With a dry nib, such as the Franklin-Christoph SIG or the glass dip pen used in the swabbing sample, there is little to no shading, however with a wet nib there is quite a bit with points of pooling showing a decent degree of saturation and a darker colour. The actual colour produced does seem to vary very much with the nib and in the writing samples you can see three to four slightly different shades.
This is not a sheening ink.
Flow and Consistency
At first this can act like a dry ink, but once the flow starts it exhibits more wet behaviour and can easily be smudged. I think this is due to the ink showing signs of greater viscosity than you would normally expect, and looking at the converter you can see the ink sticking when inverting the pen. Having said that, while it does work well with dry nibs, there does not seem to be enough additional ink in the flow to add much, if any, shading.
Drying Times
What we see here is an indication that this is less of a dry ink and more of a viscous one, affecting the flow but not the behaviour of the ink on the paper. Certainly it can be smudged if you are not careful.
Packaging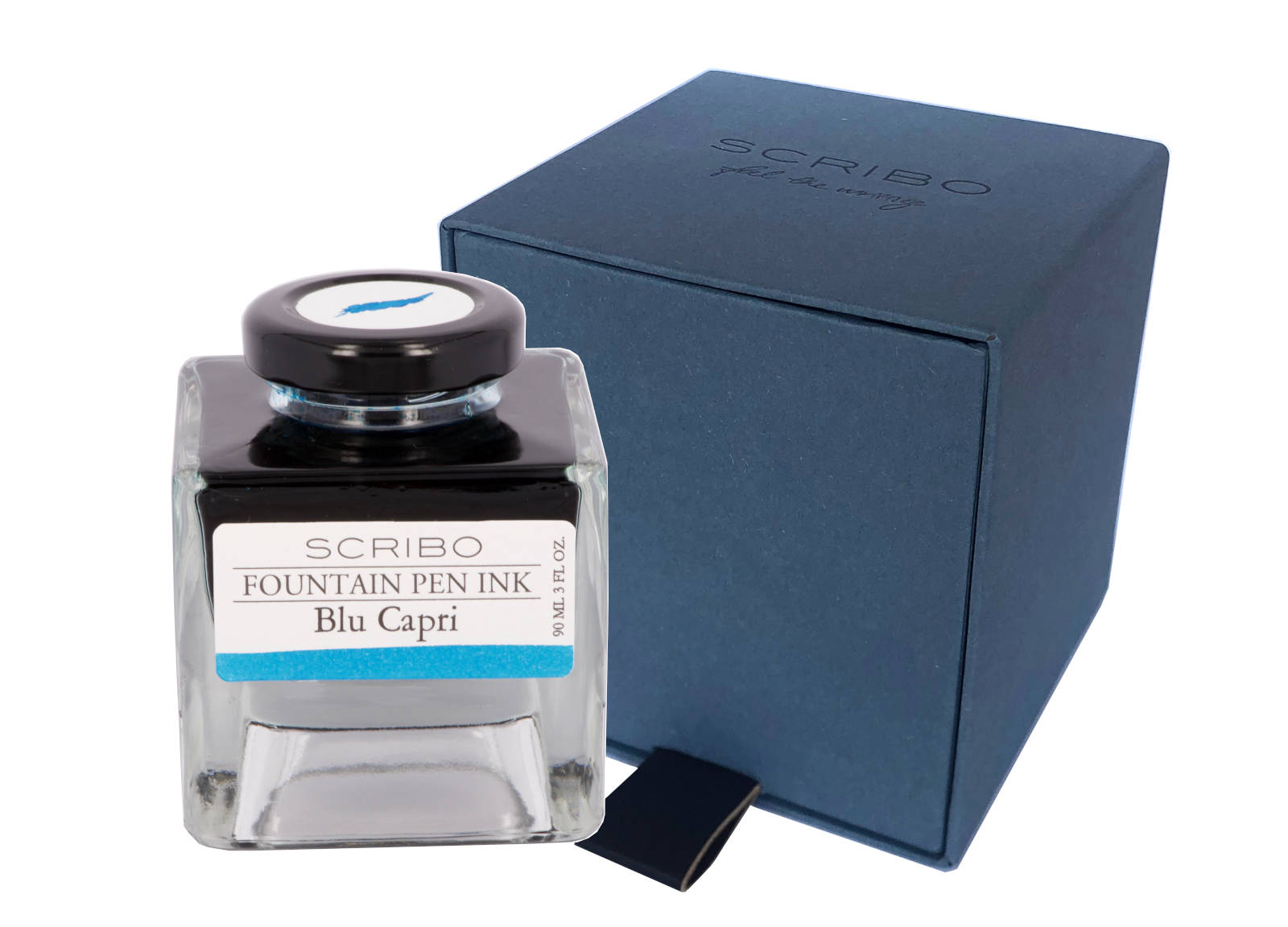 While I only have a sample vial of this ink you can see from the above picture that it normally comes in a four sided glass bottle which holds 90ml. Thought has obviously gone in to the design of these bottles with the view that the owners may keep them in boxes or draws for not only do the bottles neatly and safely stack upon one another but the cap comes with a label showing a good representation of the ink contained within. The front label also shows the colour, which could be useful once the bottle is near empty.
Swab Comparisons
When looking at swabs of other inks to compare with Blu Capri I actually ignored a good half dozen or more that had green tints or a lighter hue. I concentrated just on the 'true turquoise blue' ones.
Here we have a comparison with some of the more common but less talked about turquoises and a couple that are lesser know except in pen and ink circles. The Blu Capri is possibly the lightest ink here, except on the fourth pass of the cotton bud. It is closest to the Rohr und Klinger Blu Mare, though I would suggest the ScriBo ink is a cleaner colour. The Lamy is interesting and was a key comparison for me as I am far from being alone in highly rating this ink.
The two Pelikan inks are both darker than Blu Capri, the Edelstein Topaz more so.
For me what is interesting here is how neither of the two Pilot inks now look like a turquoise when compared with the Blu Capri, but then Ama-Iro really is a sky blue and does look so here, while Kon-Peki is 'Deep Cerulean Blue' which I find amusing as cerulean is one of those colours used by writers but which seem to cover a large gamut of blues.
Was Sheaffer Scrip Peacock Blue simply renamed Turquoise or are they different inks. Certainly an argument for the pub. Here I'm not sure you can tell for it looks like I may have used the end of a converter to do the Turquoise ink sample. I would suggest the Sheaffer ink(s) are slightly darker but less able to shade, and with the Peacock Blue sample, certainly flatter.
Cost
At £35 for 90ml this is reasonably priced for a luxury ink. Slightly more expensive then Pelikan Edelstein, regular Montblanc, and Graf von Faber Castell, but also slightly cheaper than Pilot Iroshizuku and Sailor Manyo. Sailor Shikiori and non-base Montblanc inks are considerably more expensive.
Thing is, as with most 50ml+ size bottles, you are not going to run out of ink any time soon, in fact you will probably not be looking to replace a bottle of this size for years unless you are a prodigious writer with just a couple of bottles.
Views
This is a very appealing ink. Certainly one that hits at the joys of summer with it's bright, clean and crisp finish. I like the way that the four different nibs produced different results and all worked well with the ink, though if you like your shading then a wetter nib produces far better results.
This colour has resulted in a very busy market place with many options and many slight variations with hints of green or more blue, however I think Blu Capri holds it's own, especially when used with a wetter nib. The one catch for me is Lamy Turquoise, which I think I still prefer, but I certainly would have no objections to using this one and I would be happy to have it in my collection.
Tools Used
The Well Appointed Desk Col-o-ring ink testing cards.
Midori MD A5 paper (cream page writing sample).
Oxford Optik A5 paper (white page writing sample).
Rhodia Dotpad No. 16 (drying tests).
Pens Used
J. Herbin glass dip pen with the tip slightly smoothed (used the writing on the ink test cards).
Franklin-Christoph 451 CDLI with a Mike Masuyama Needlepoint steel nib.
OMAS 360 GM with a broad 18k gold nib.
Franklin-Christoph 19 '1911' with a broad SIG steel nib.
Pelikan Pelikano with a starter/A steel nib (also used for the drying test and writing in the pocket book).