Sepia has been often used to describe a brown without any real agreement on what it should look like. Part of this is due to the origins being an extract from the defensive ink of the cuttlefish, after which it is named. Alas with one exception, real spepia can not be used in fountain pens else they will quickly clog up (the exception being produced by a small Japanese chemist and sold only through one small pen maker of renown). Not an issue for the Romans in the time when they were still a republic, but certainly one for us today. Instead we have safe inks using the name, and how appropriate it is for the name to be used by a brand based in a city which was around before Rome expanded beyond it's city walls to conquer it.
Initial Impressions
Confession time. While I have a few brown inks in my collection, I am not really a fan of this colour except in its more orange form, however I can still appreciate it.
For a fountain pen ink this is comparatively thick, viscous, sticky, meaning from the start I had a struggle or two. It is on the darker side of what I would personally consider sepia to be, almost chocolate in appearance. I actually spilt a little on filling the first pen and was amazed at how the ink pool just sat there without spreading out, making it easy to clean up.
Swabbing Impressions
From my initial impressions it is no surprise that the first pass of the cotton bud shows a reluctance for the ink to go down on to the card. It exhibits a dry behaviour, though you can see a variation in shading. The second pass onwards show that this is also a heavily saturated ink with only minor increases in darkness for the final two layers..
Writing Impressions
On the Midori MD paper I had a mixed experience. With the needlepoint the writing was dry but the ink did flow and even with the fine lines you can see a reasonable amount of shading without even having to open up the photo from the link. Moving on to the OMAS pen I then started to struggle. It skipped. Some of the writing you see from it above required a second pass of the pen. This is a wet nib so I can but assume the ink was struggling with a combination of the feed and contact of the tipping on the paper. If you look at what I wrote with this pen you will see I added a line after testing on the Oxford Optik paper, and that too had skipping issues. With the Franklin-Christoph SIG nib I failed to get the ink to flow and had to prime it by immersing the nib in the sample. Even with this you can see it struggling to put the ink down on the paper, with thinner writing than you would expect from a broad SIG nib. For the Pelikan, normally the easiest of pens to allow ink to flow, I once more had to prime the nib, though here it did write well.
This ink certainly exhibits issues with certain paper types, such as the Midori MD.
The Oxford Optik paper proved to be some what forgiving towards this ink as all four pens wrote with no issues. Here we still see some shading, even in the darkest writing from the OMAS pen, which had no issues here.
Shading and Sheen
Despite being a heavily saturated ink, Classico Sepia does provide a surprising amount of shading though more so where a dry line is put down, which is a shame as it would be nice to have a bit more visible on paper where this ink does work.
This is not a sheening ink.
Flow and Consistency
Alas here we have double trouble. The ink flow is poor, but not just through being sticky, it is also dry as well. Additionally it suffers from comparatively high levels of viscosity, with it resisting light tapping for the ink to drop down in a converter.
Drying Times
The ink dries very quickly. I was surprised to be able to smudge as much as I did with the test on the right.
Packaging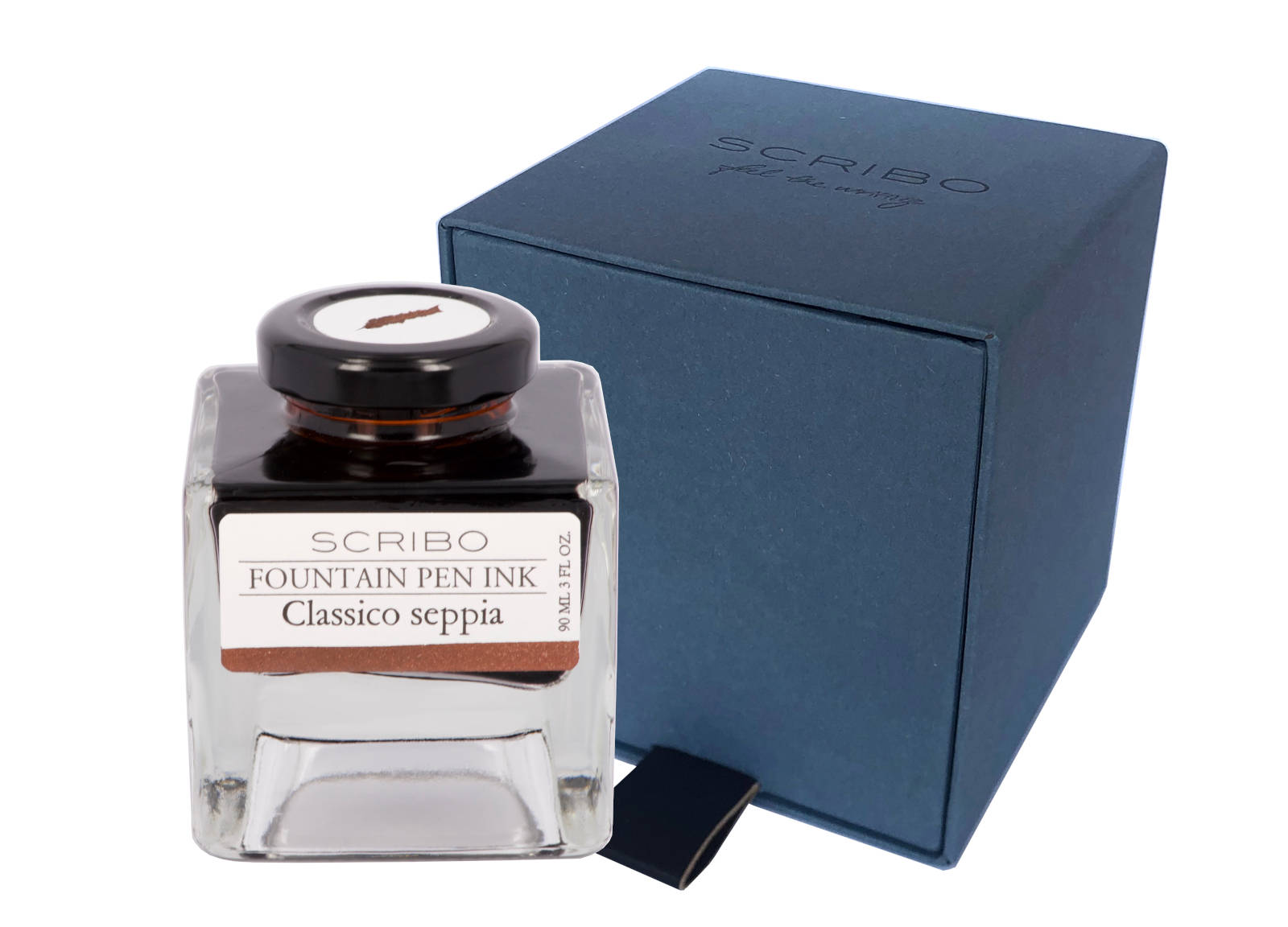 While I only have a sample vial of this ink you can see from the above picture that it normally comes in a four sided glass bottle which holds 90ml. Thought has obviously gone in to the design of these bottles with the view that the owners may keep them in boxes or draws for not only do the bottles neatly and safely stack upon one another but the cap comes with a label showing a good representation of the ink contained within. The front label also shows the colour, which could be useful once the bottle is near empty.
Swab Comparisons
The comparison above is with the two ink tests I have that are closest in appearance under natural light. The De Atramentis ink has a slight pinkish/orange hue to it but the writing portion is very similar. The Pilot Iroshizuku is also slightly pinkish when lightly laid down, but does look very similar in darker areas and the text.
Here we have three more inks which in natural light look to be close to the Classico Sepia, but slightly warmer.
Finally a comparison with the one other swab test I have with sepia in the name. This is a lot closer to the colour I would expect, though possibly due to its association with early photography.
Cost
At £35 for 90ml this is reasonably priced for a luxury ink. Slightly more expensive then Pelikan Edelstein, regular Montblanc, and Graf von Faber Castell, but also slightly cheaper than Pilot Iroshizuku and Sailor Manyo. Sailor Shikiori and non-base Montblanc inks are considerably more expensive.
Thing is, as with most 50ml+ size bottles, you are not going to run out of ink any time soon, in fact you will probably not be looking to replace a bottle of this size for years unless you are a prodigious writer with just a couple of bottles.
Views
I am a big fan of Scrittura Bolognese. I have a number of their pens and like the way Luca Baglione and his colleagues have taken the spirit of OMAS and moved forwards with new pens and products. Alas however there's always going to be the one that got away, the runt of the litter, and for me it is this ink. Out of the four pens I tried it in I had issues with three. I think it is just too viscous, causing flow problems and meaning you are going to be limited in which pens you can use it with and on what paper it will work. I suspect this is an ink for artists and dip pens.
Tools Used
The Well Appointed Desk Col-o-ring ink testing cards.
Midori MD A5 paper (cream page writing sample).
Oxford Optik A5 paper (white page writing sample).
Rhodia Dotpad No. 16 (drying tests).
Pens Used
J. Herbin glass dip pen with the tip slightly smoothed (used the writing on the ink test cards).
Franklin-Christoph 451 CDLI with a Mike Masuyama Needlepoint steel nib.
OMAS 360 GM with a broad 18k gold nib.
Franklin-Christoph 19 '1911' with a broad SIG steel nib.
Pelikan Pelikano with a starter/A steel nib (also used for the drying test and writing in the pocket book).