There is something very right about an ink from a Mediterranean country being a vibrant orange. It is the colour of sun, summer, warmth, and happiness. Named after the orange growing region of Sicily, this pigment based ink does feel very appropriately named.
Initial Impressions
This is a good looking orange with a high level of saturation. When in the converter I noticed the ink exhibited quite a high surface tension resulting in it staying at one end when I switched the converter across to another pen. I had to tap multiple times to force some of the ink to drop and had to repeat a number of times to get all of the ink to the nib end. I can see this being an issue if you were to leave your pen nib up for an extended period of time.
Swabbing Impressions
I was surprised at just how dry the ink was on the first pass. You can clearly see how light and inconsistent the swabbing was despite the cotton bud being fully immersed. Come the second pass and all is fine though the high level of colour saturation is apparent by the fact there is little to no difference between that and the three and four swab areas of the card.
Writing Impressions
On the Midori MD paper the writing experience was far better than I expected post the swabbing. This paper is smooth and can cause issues with dryer pens and those with smoother polishing of the tipping (getting close to baby's bottom), however the ink was laid down with all four pens with no problems. At first I thought I had a problem with the OMAS nib, as I wrote above, however the real cause was the inks sticking in the converter when I was trying to prime the nib and once that was fixed it wrote well.
Oxford Optik paper can be very forgiving, good for showing sheen, but also can also slow ink drying times. Here there was little to no risk of smudging my (poor) writing and all four pens wrote well.
Shading and Sheen
This ink exhibits a nice level of shading. This is visible on the writing samples with the Franklin Christoph needlepoint and this is by design a dry nib. Even with the rather wet OMAS broad nib you can see colour differences where the ink has pooled and where there is less pressure being applied at the top of strokes.
This is not a sheening ink.
Flow and Consistency
Once the ink is being fed through to the feed and nib then all is fine, however this is a dry and sticky ink with the result that I had problems priming nibs when swapping the converter between pens. I can not see this being an issue if the pen were the be traditionally filled by dipping the nib and winding the piston, however you may find flow issues when using eye dropper or vacuum filler pens. Additionally you may find yourself having to wind the piston in to force ink in to the feed if you were to leave the pen long enough for the nib to dry out else empty back in to the pen.
Drying Times
The ink dries very quickly. I was surprised to be able to smudge as much as I did with the test on the right.
Packaging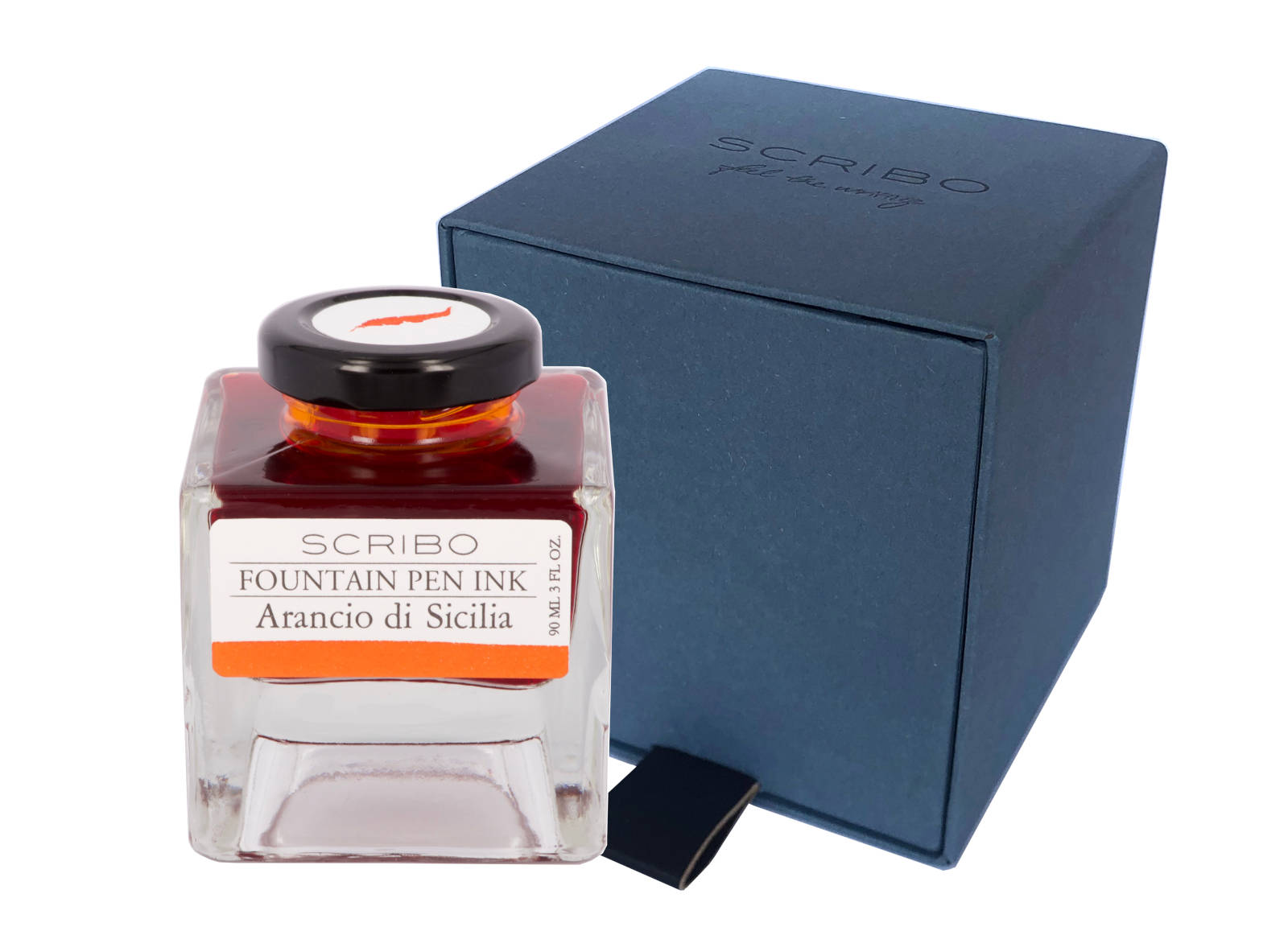 While I only have a sample vial of this ink you can see from the above picture that it normally comes in a four sided glass bottle which holds 90ml. Thought has obviously gone in to the design of these bottles with the view that the owners may keep them in boxes or draws for not only do the bottles neatly and safely stack upon one another but the cap comes with a label showing a good representation of the ink contained within. The front label also shows the colour, which could be useful once the bottle is near empty.
Swab Comparisons
First off comparing with some rather saturated inks. Arguably the Montblanc Lucky Orange may have been included in the next set, however it only shows a little variation in saturation, where as the other three inks I am comparing Arancio di Sicillia with are effectively monotone. Writing wise the ScriBo and Montblanc inks are very close so if you are still looking for a replacement for the limited edition German ink then this one may be a good choice.
At a glance when compared with Lamy and Pelikan Edelstein rivals things are rather similar, however both are lighter. I personally think if you already have a bottle of the Pelikan and are not a collector then there is no need for the ScriBo ink as well.
Comparing with the 'Japanese giants' did surprise me as I thought it would be a lot closer to the pair/trio. Here I think personal preference comes in to it. Pilot Iroshizuku Yu-Yake is one of my all time favourite inks, however with my bottle of that being near to the end I may consider going for Arancio di Sicillia instead.
Cost
At £35 for 90ml this is reasonably priced for a luxury ink. Slightly more expensive then Pelikan Edelstein, regular Montblanc, and Graf von Faber Castell, but also slightly cheaper than Pilot Iroshizuku and Sailor Manyo. Sailor Shikiori and non-base Montblanc inks are considerably more expensive.
Thing is, as with most 50ml+ size bottles, you are not going to run out of ink any time soon, in fact you will probably not be looking to replace a bottle of this size for years unless you are a prodigious writer with just a couple of bottles.
Views
I like this ink. The colour is just my thing and you do get some shading where lines cross just to add character. My one concern is how sticky and dry it is. The pens I presently use with red and orange inks all have dryer nibs and so I could see them struggling with Arancio di Sicillia, however that could just give me an excuse to switch in one of my wet writers. I only have a few fills of Pilot Iroshizuku Yu-Yake left and I can see this being a suitable replacement.
Tools Used
The Well Appointed Desk Col-o-ring ink testing cards.
Midori MD A5 paper (cream page writing sample).
Oxford Optik A5 paper (white page writing sample).
Rhodia Dotpad No. 16 (drying tests).
Pens Used
J. Herbin glass dip pen with the tip slightly smoothed (used the writing on the ink test cards).
Franklin-Christoph 451 CDLI with a Mike Masuyama Needlepoint steel nib.
OMAS 360 GM with a broad 18k gold nib.
Franklin-Christoph 19 '1911' with a broad SIG steel nib.
Pelikan Pelikano with a starter/A steel nib (also used for the drying test and writing in the pocket book).