When ScriBo was launched there was the question over ink. Would there be any, after all OMAS had a decent range. The answer appeared to arrive with the launch if their first regular pen, the Feel. The first ones bought directly from ScriBo came with a 20ml bottle of a blue-grey ink. One of the two colour options for the new pen, as well as being used for corporate media. It would seem inks would be just round the corner. Time passed.
It was not until the start of 2021 that the inks finally appeared. A large range starting with 10 different colours, so more than were sold by the former company, OMAS. Over time this has increased to 13, or 15 if you include the limited edition Rosso Acero and Verde Foglia (only available in a seasonal small bottle set). While some may miss the multifaceted bottle of old, ScriBo have purposely gone for something different. Large 90ml four sided bottles that safely stack on one another. All the inks are pigment based and there is no word on who may have developed them, but then the same was the case with OMAS. One question, which alas I can only part answer in time, is the whether some are the same as produced by the former company or are they all new. I have a bottle of OMAS green so will test that against the Verde Bosco at some point in the near future.
One thing about the packaging is the label on the bottle and the cap both show a reasonably accurate depiction of what the ink inside looks like. The cap marking is particularly helpful if you leave your bottles in a draw or box as you can see the one you want without having to pick out random bottles.
Alas for me I can presently only view the bottles on line, the one downside to being supplied with large samples of all 13 regular inks. Hard to complain, especially as the vials were all near full, so around twice as much as you normally get if you were to buy a sample in the UK or USA. This has come about through a donation of the bottles to the United Inkdom review group by Write Here of Shrewsbury.
Having worked out a plan I started to swab the inks on to Col-o-ring cards and the first thing I noticed is there are differences across the range for ink flow and wetness. Now it should be noted this is the same for most ink makers, but I had not really thought about it. Several seemed to be particularly dry including the Arancio di Sicilia and the Grigio SCRIBO. Now if this proves to be true when I do the individual tests then it could be useful to know as I have a number of pens I enjoy which have very wet nibs, including one of my ScriBo Feels.
Alongside the cards I also completed a comparison sheet. For this I did one pass for the whole area and a second pass for the lower half. This should give a reasonable indication as to what the ink will look like from dry and wet nibs.
One thing I also tried was chromatography tests. This proved harder than I expected but I managed it for all 13 inks. I'm not sure how useful this is, nor if it tells us much beyond some of the pigment colours the inks are comprised of, so this may be the last time.
Thoughts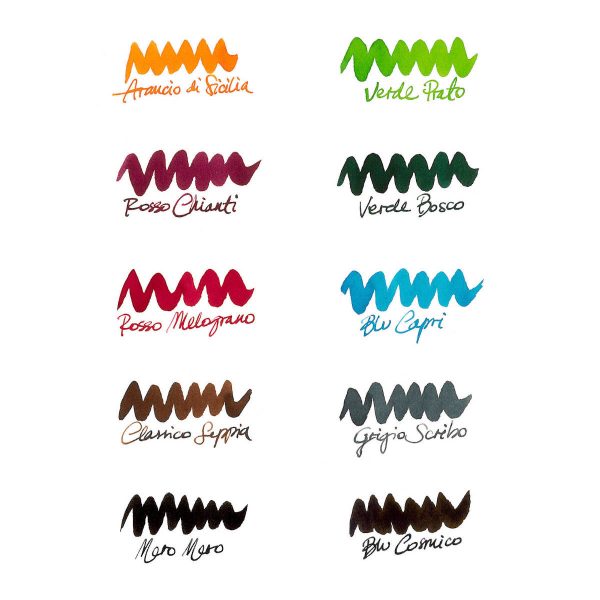 The choice of colours ScriBo have gone for is interesting. The original 10 excluded Giallo Cannella, Notturno Viola, and Verde Mediterraneo. Even with those you still do not have a royal blue or a yellow, and the only true red so far was Rosso Acero, a long sold out limited edition from autumn 2021 which was only available as part of a four 20ml bottle set (along with Verde Foglia). It is almost as if ScriBo have decided to avoid the more common colours for I'm not even certain (but will confirm in time) that there is a 'normal' green in the range. Still there is a good combination of bright and subtle colours including black and grey for staid work environments.
Actually I've had another thought about the colour options. Many of them line up (almost) with the colours so far used with the Feel, Piuma and La Dotta pens. This might be coincidental, or it might be the route they are taking and also opens up the question of why no royal or regular blue to go along with the Feel Oceano.
Price wise, the inks presently are £35 for 90ml from Write Here in the UK. From the table above you can see it is not that bad for a luxury ink as this range certainly will have been targeted against the likes of Pelikan Edelstein and Pilot Iroshizuku.
Materials Used
The Well Appointed Desk Col-O-Ring Ink Test cards.
HP Papers Premium A4 90gsm printer paper.
Rombout coffee filter cones (cut in to roughly equal sized strips)
Generic cotton buds for swabbing.
J. Herbin glass dip pen for writing on the test cards.
Individual Swab Test Cards
These were scanned using VueScan software on a Canon LiDE 200 scanner with a resolution of 1200 dpi. I did try 4800 dpi but each scan was about 6GB in size and viewed at 100% was too wide, never mind high for a 4k monitor.