Tags
Black Ink, Cult Pens, Cult Pens Diamine Petunia, Cult Pens Exclusive, Cult Pens Flower Inks, Cult Pens Inks, Cult Pens Petunia, Diamine, Diamine Ink, ink, Ink Review, Petunia
I'll admit it, until I went to look in to the petunia for this review I did not realise nature actually evolved flowers with near black petals. I can think of several reasons why and I suspect they glow white under an infra red light. As someone with negligible green finger knowledge I have been gaining a certain amount of horticultural knowledge while reviewing this ink set.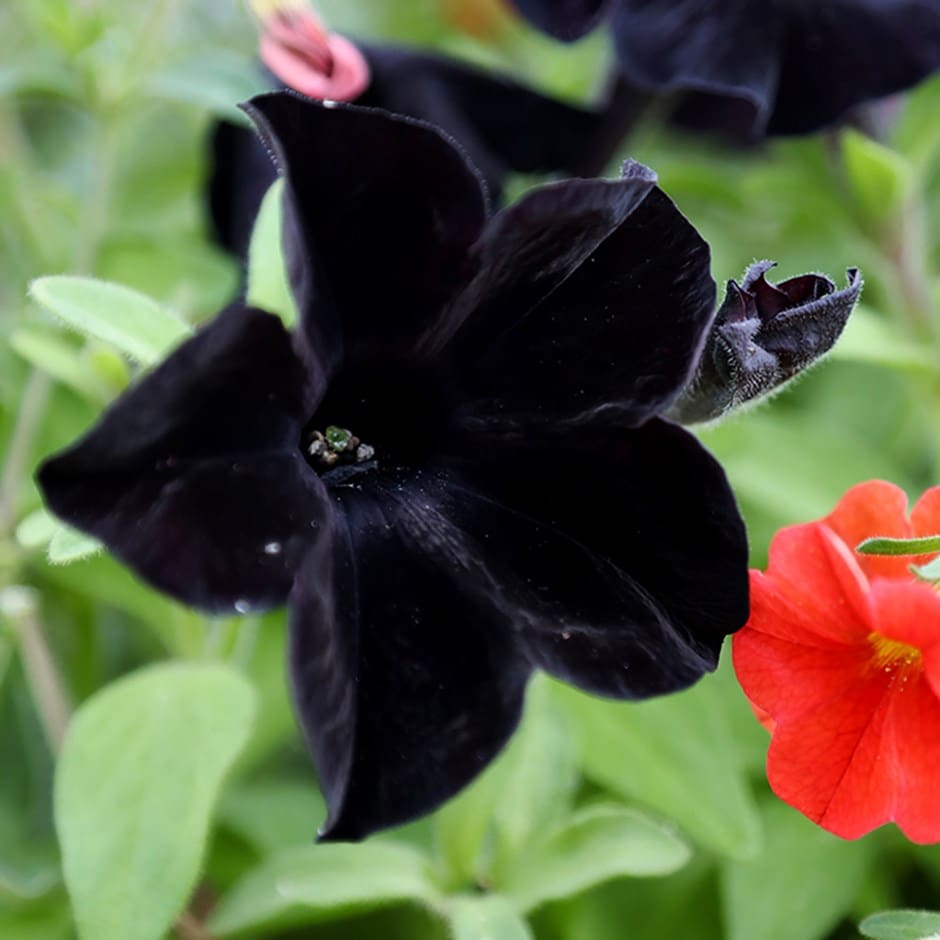 Initial Impressions
Effectively this is a black ink with purple or lilac tinges. I was expecting a dark purple but instead see a very dark solid black when enough ink is down. For a flower ink this may well be darker than many stock blacks. Flow could be an issue for while the OMAS nib and feed acted like a fire hose, dumping ink from the converter in to the cap under gravity, the other three pens all struggled to write, though once prime they were fine.
Swabbing Impressions
I must admit I was expecting the first pass to be lilac, and while there are tinges of that it is very much a secondary colour. Additionally there were indications this could be a thicker or dry ink. The second pass results in a deep dark black that could rival the best out there. The third and fourth swipes added little extra.
Writing Impressions
On the Midori MD paper all four pens wrote well. The Franklin Christoph needlepoint nib produced a crisp dark black line. The OMAS nib does show some shading, though of an off-off nature and at a casual glance you may not notice. The Franklin Christoph SIG nib showed more shading, though this still comes across as a decent black ink despite the nib being some what dry. The Pelikan Pelikano has so far struggled more with this ink set than the others, yet here we still have a decent piece of text, though a little greyer and there were a couple of skips.
On the Oxford Optik paper all bar the Pelikan nib produced solid black lines with little shading. There is some but it is not noticeable unless you look closely. The Pelikan Pelikano produced more shading, but this results more in a slightly lighter black to the eye rather than a variation of shading.
With the Tomoe River paper all four pens gave dark black results with even the Pelikan pen giving minimal shading. The swipe at the bottom does show lilac hints in the lighter area.
Shading and Sheen
Petunia does shade, but more so when I was doing the swatch card than when actually writing. As previously mentioned there is a purple or lilac tinge to the lighter areas where there is a dark grey, aide from that there is a deep black.
This is not a sheening ink.
Flow and Consistency
Once the ink started to flow all four pens worked well. Certainly with the wet nib and ebonite feed of the OMAS there were no issues, in fact the opposite as the pen had been left nib down to help prime it. Little did I expect that after a short while I would have ink pooling in the cap. How much the problems of priming the other three pens were down to the nibs and/or the feeds I am not sure. I suspect this is a thicker ink, though I saw no signs of it being a viscous one in the converter. I suspect this is an ink which will only work with certain pens but when it does it will work well. Alas I did not have time to leave the converter in one of the non-OMAS pens for a few days to see how it started after then.
Drying Times
So far amongst the Cult Pens Flower inks this is one of the wettest. There is a slight hint of a smudge even on the 10 second test.
Packaging
While I only have a sample vial of this ink you can see from the above picture that it normally comes in a square bottle that contains 30ml of ink. Having handled one before, they work very well from a presentation point of view, but are not great for filling a fountain pen.
Swab Comparisons
I have quite a few different black swatches in my collection which allowed me to be more selective with the ones I chose. I was surprised just how light the first pass on the swabbing was compared to other blacks, in addition to which the lilac tinges were more obvious. I also looked at the darkest of the purple swatches I have but none were close to that level of darkness.
Diamine Earl Grey might be a grey not a black but it has similar purple shading and where it is darkest it could almost pass as a black.
Private Reserve Velvet Black is very close to Petunia, though it is missing the lilac tinge to the grey edges.
The final two blacks I am comparing Petunia to are very dark ones, especially the Aurora. It is an interesting alternative, though potentially fussy over which pen/nib combination it will work with.
Cost
At present these 30ml bottles cannot be bought individually, but only as part of the Cult Pens set of ten. This comes in at £60 or £6 per bottle, which for most inks is cheap, however compared to other Diamine inks this is a little more expensive. Having said that, I suspect that in 6-12 months time you will be able to buy 30ml plastic bottle 'refills' at the regular Diamine price of £4.50. I think they have done this on all their non-Inkvent released ink sets so far.
Views
Petunia is a very good black with an interesting twist in the lilac hue if it will work in your pen. Thing is there are a lot of options out there and many are better behaved. Having said that, if you do buy this ink set and have a pen Petunia works in then it is certainly an ink you can, and quite possibly, will use.
Tools Used
The Well Appointed Desk Col-o-ring ink testing cards.
Midori MD A5 paper (cream page writing sample).
Oxford Optik A5 paper (white page writing sample).
Rhodia Dotpad No. 16 (drying tests).
GoodINKPressions A5 Tomoe River 68 gsm paper (white paper, this ink blot test at bottom).
Pens Used
J. Herbin glass dip pen with the tip slightly smoothed (used the writing on the ink test cards).
Franklin-Christoph 451 CDLI with a Mike Masuyama Needlepoint steel nib.
OMAS 360 GM with a broad 18k gold nib.
Franklin-Christoph 19 '1911' with a broad SIG steel nib.
Pelikan Pelikano with a starter/A steel nib (also used for the drying test and writing in the pocket book).
Letter opener for the ink smear on the Tomoe River paper.