This was the first of the additional inks to be added to the ScriBo line up. Notturno Viola matches the limited edition Feel Viola pen while adding a purple to the ink line up. Described by it's maker as Mystic and Biting it certainly lends towards thoughts of witchcraft and Gothic horror.
Initial Impressions
A dark purple with hints of grey-blue. The ink goes down well inferring it provides a good wet flow. Additionally it appears to be quite heavily saturated, which could result in minimal shading with wetter and broader nibs.
Swabbing Impressions
The first pass with the cotton bud shows just how strong and saturated this ink appears to be. It flows well, which is a little surprising considering how strong a swatch you get right from the start. The second pass adds a little, making this more of a plum like colour. The surprise to me is the third and fourth passes. Not that there is little difference between them, but that there is a jump in darkness between the second and third. This is not a subtle ink.
Writing Impressions
Here on the Midori MD paper we can see there is a big difference in the hue of the ink depending on the nib size and wetness. It is the same for the amount of shading. With the needlepoint we have a lighter line, but with little character. The OMAS nib provided the darkest colour, but again no real shading due to the amount of saturation in the ink. With the broad SIG nib we get lighter writing than with the OMAS, however we also now see some shading, though you need to look closely to see more than just a trace. It is the normally wet Pelikano that behaved differently. The writing was lighter than I was expecting, however now we do see a decent level of shading.
The Oxford Optik shows just how different paper types can affect what you see. Rather than a broad range in shading, here the writing is very similar in colour across all four nibs. Also the range of shading is much reduced, and with three of the four nibs, hard to see unless you look closely.
Shading and Sheen
This is a very saturated ink with the result that there is not much shading seen with wet inks or glossier paper types. Even when there is more variation in hue there is still comparatively little shading. This differs with the other ScriBo inks I have so far tried.
A lot of purple inks do show sheen, however this is not one of them. I was not sure if there were hints on the swab test, but looking closely it appears to be more caused by the paper.
Flow and Consistency
This is quite a wet ink and I did find I had no need to prime the nibs of the pens used for this test when moving the converter between them.
Drying Times
Here we can see that the ink does need a little time to dry, especially if you are using a wet or broader nib. Certainly it can be smudged if you are not careful.
Packaging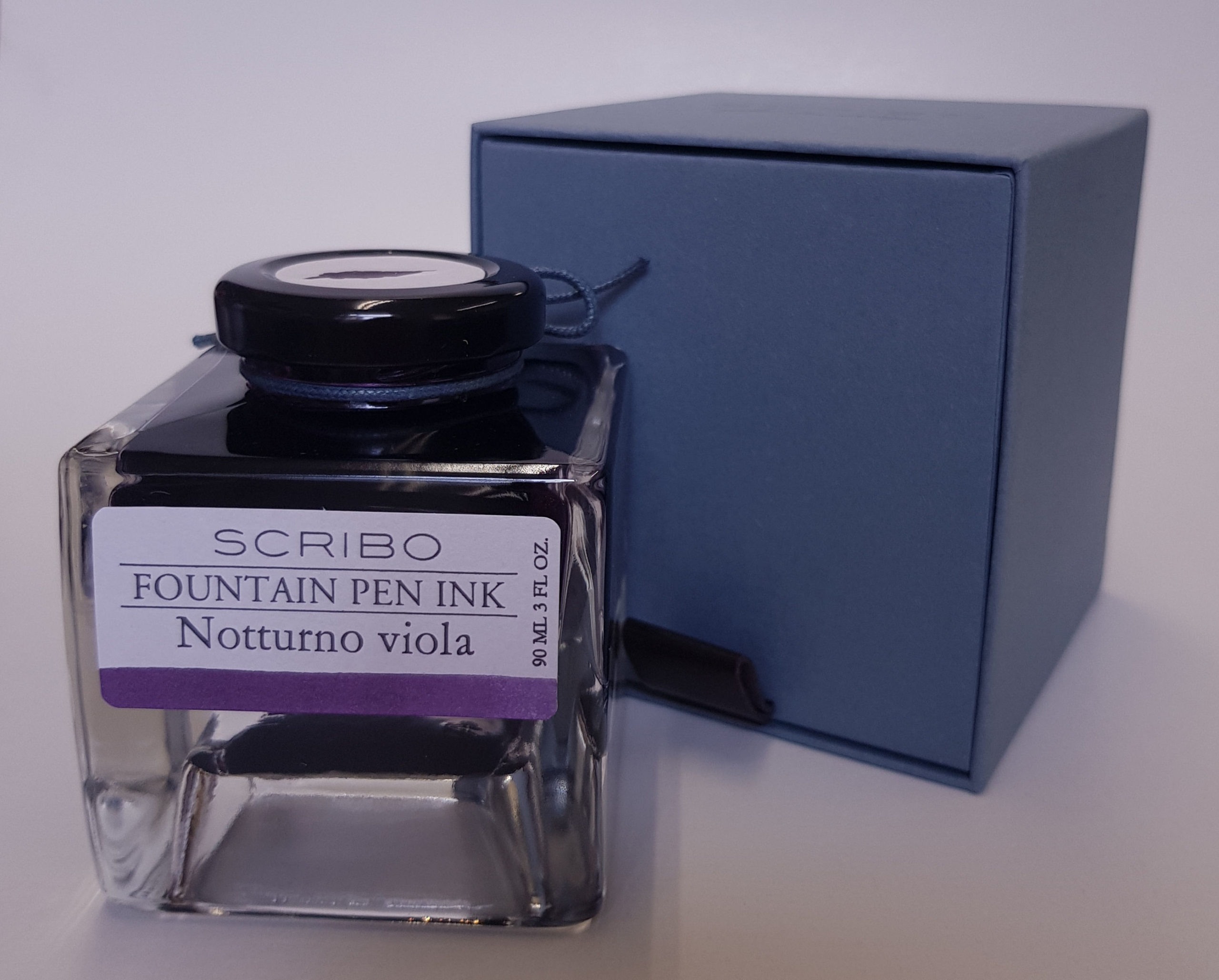 While I only have a sample vial of this ink you can see from the above picture that it normally comes in a four sided glass bottle which holds 90ml. Thought has obviously gone in to the design of these bottles with the view that the owners may keep them in boxes or draws for not only do the bottles neatly and safely stack upon one another but the cap comes with a label showing a good representation of the ink contained within. The front label also shows the colour, which could be useful once the bottle is near empty.
Swab Comparisons
It was interesting looking for matches amongst my collection. I found there to be quite a variation between the various purple inks with very similar test writing to this one, with hits of reds and oranges, some a lot darker, many lighter.
These to were the closest inks I could find to Notturno Viola. Both are slightly lighter and more 'plummy' with the De Atramentis ink also having a redder hue.
Here we have two Diamine inks that are close, however both have sheen, which with the purple rain obscures the fact it is probably the closest of the four where the ink is pooled or most saturated.
Cost
At £35 for 90ml this is reasonably priced for a luxury ink. Slightly more expensive then Pelikan Edelstein, regular Montblanc, and Graf von Faber Castell, but also slightly cheaper than Pilot Iroshizuku and Sailor Manyo. Sailor Shikiori and non-base Montblanc inks are considerably more expensive.
Thing is, as with most 50ml+ size bottles, you are not going to run out of ink any time soon, in fact you will probably not be looking to replace a bottle of this size for years unless you are a prodigious writer with just a couple of bottles.
Views
This dye based ink is highly saturated and requires the right combination of nib and paper to produce interesting results. If this were to be your only purple then I think you would be happy. It is a decent colour with a very good level of flow and should work in virtually any pen, however personally I like a little shading in my writing. Additionally there are a lot of darker purple inks out there, so a lot of competition even if they are not quite the same. Having said that, when looking at it's rivals, quite a few are of similar price or are more expensive.
Tools Used
The Well Appointed Desk Col-o-ring ink testing cards.
Midori MD A5 paper (cream page writing sample).
Oxford Optik A5 paper (white page writing sample).
Rhodia Dotpad No. 16 (drying tests).
Pens Used
J. Herbin glass dip pen with the tip slightly smoothed (used the writing on the ink test cards).
Franklin-Christoph 451 CDLI with a Mike Masuyama Needlepoint steel nib.
OMAS 360 GM with a broad 18k gold nib.
Franklin-Christoph 19 '1911' with a broad SIG steel nib.
Pelikan Pelikano with a starter/A steel nib (also used for the drying test and writing in the pocket book).