When ScriBo launched their ink range there were very few colours in the set that could be considered traditional, and out of the 'core' four of black, blue, green and red, there was only this ink, Nero Nero.
Initial Impressions
Being called Nero Nero or black black I was expecting something very dark. To be honest nero nero could also be translated as 'dirty black'. My initial writing with the dip pen showed a decent dark black line with little variation. Swabbing showed results similar to most other blacks on the market, with grey when lightly applied, but then showing a decent level of depth and darkness. There is a hint of bronze, perhaps that is the dirty in the name.
Swabbing Impressions
The first pass of the cotton bud may have produced a grey patch, however if you check the comparisons below you will notice this is standard in most 'safe' black fountain pen inks. In fact the only black I can think of (check my comments with the comparisons) that is always dark and is not an iron gall or India/Indian ink is Aurora Black. With the second pass on you get the darkness expected and this does look like a decent black. There is a slight hint of a bronze sheen from the second pass on.
Writing Impressions
On the Midori MD paper it is interesting to see that the line produced by the needlepoint and the traditionally wet OMAS are dark and solid, while the dry SIG nib shows hints of greyness and quite a bit of variation in shading, though none of it light. Now what did surprise me is the line from the Pelikan Pelikano. It is a wet nib, yet here if produces probably the lightest writing. I suspect it might be a combination of the smooth nib tipping and the surface of the Midori MD paper.
With the Oxford Optik paper we can see closer results between the lines from the different nibs. The broad SIG now appears to be more consistent and blacker unless you look closely, at which point you see quite a lot of shading, which I find to be quite attractive in this ink. The Pelikan once more seems to struggle to produce a really dark line, but here it is less obvious and if anything we are still seeing a darkness that would be considered decent in many other black inks.
Shading and Sheen
With wet or very fine nibs there is very little shading, just a very dark ink, however with the right nib, and/or the right paper you can get quite a variation in shading. The question is, do you want this with a black ink. I quite like it on the Oxford Optik paper.
In theory this is not a sheening ink, however if you look closely where the ink is pooled or on the swab test you will see subtle hints of bronze.
Flow and Consistency
There is nothing particularly unusual about this ink. It is rather average, neither wet nor dry, with a decent flow. It is possibly a less viscous ink than many, so potentially a good choice for vac filler pens.
Drying Times
As with the flow, I would suggest this is a very average ink when it comes to how quickly it dries on the page.
Packaging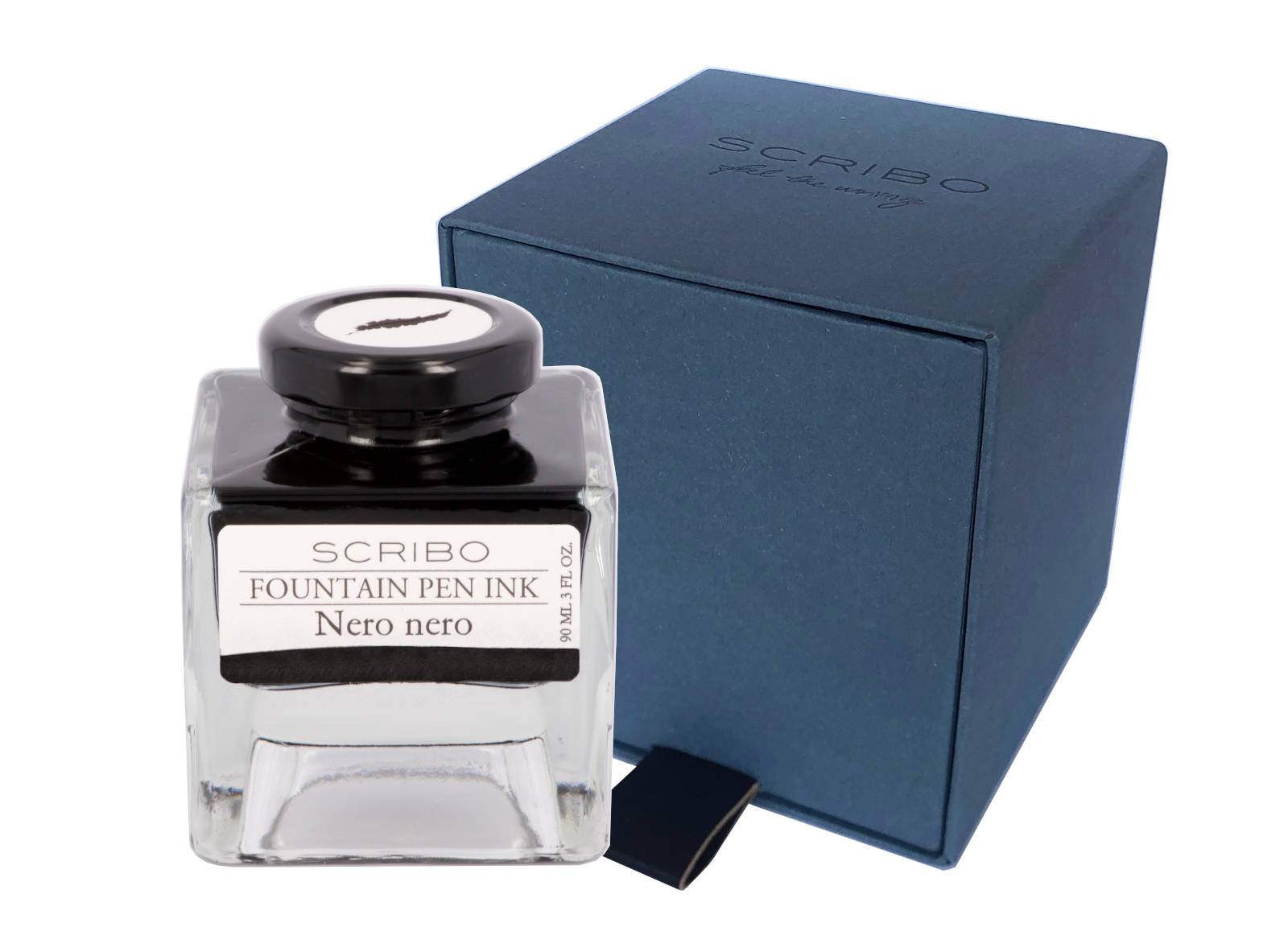 While I only have a sample vial of this ink you can see from the above picture that it normally comes in a four sided glass bottle which holds 90ml. Thought has obviously gone in to the design of these bottles with the view that the owners may keep them in boxes or draws for not only do the bottles neatly and safely stack upon one another but the cap comes with a label showing a good representation of the ink contained within. The front label also shows the colour, which could be useful once the bottle is near empty.
Swab Comparisons
First off, a rather important comparison. While I do not have any OMAS black, I have previously swabbed it. While the level of bronze sheening might be similar the two inks do look very different. Note if anyone in the UK is able and willing to let me have a sample it would be much appreciated (same for other OMAS inks aside green, which I have).
Here I am comparing Nero Nero with the commons blacks I have swab tests for and are of a similar level of darkness. At some point I might have to get another sample of the Cross ink as the swabbing looks like I just have multiple layers, no single pass to see, but the writing sample is very similar. None of these are quite the same.
Now this was a surprise, as these two inks are very similar. Possibly the Pelikan Edelstein ink less viscous, hence the 'rougher' finish to the swab patch, however the writing sample and the sheen are very close.
From here you can see just how close the two blacks are with the Pelikan Edelstein (the lower in both comparisons) now appearing to be a wetter ink (the swab test was made a few years ago).
Cost
At £35 for 90ml this is reasonably priced for a luxury ink. Slightly more expensive then Pelikan Edelstein, regular Montblanc, and Graf von Faber Castell, but also slightly cheaper than Pilot Iroshizuku and Sailor Manyo. Sailor Shikiori and non-base Montblanc inks are considerably more expensive.
Thing is, as with most 50ml+ size bottles, you are not going to run out of ink any time soon, in fact you will probably not be looking to replace a bottle of this size for years unless you are a prodigious writer with just a couple of bottles.
Views
This is a strong black ink and I do not think you would be disappointed if you were to buy it, however it is up against some strong competition, all of which are cheaper. If you want a true black then Aurora is still the one to go for, and one I actually do not have (I once bought a sample). I am a fan of both Lamy Black and Pelikan Edelstein Onyx and I could see this replacing those with no problems, especially the latter.
Tools Used
The Well Appointed Desk Col-o-ring ink testing cards.
Midori MD A5 paper (cream page writing sample).
Oxford Optik A5 paper (white page writing sample).
Rhodia Dotpad No. 16 (drying tests).
Pens Used
J. Herbin glass dip pen with the tip slightly smoothed (used the writing on the ink test cards).
Franklin-Christoph 451 CDLI with a Mike Masuyama Needlepoint steel nib.
OMAS 360 GM with a broad 18k gold nib.
Franklin-Christoph 19 '1911' with a broad SIG steel nib.
Pelikan Pelikano with a starter/A steel nib (also used for the drying test and writing in the pocket book).